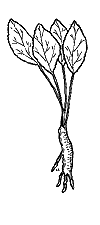 HORSE RADISH
Amoracia rustica (Lam.) G.M. and S.
During a visit to Eskasoni, Cape Breton, in 1976, I visited a man who spoke to me about the eptekewey, or "hot root". This is the name that the Mi'kmaq give to the horse radish, he informed me. As he spoke, he pointed to a number of the plants growing in the front yard of his property. The horse radish is rich in vitamins A and C and has a long history of usage in herbal medicine. The plant has been used as a stomach medicine by the Mi'kmaq, but only a small portion of the root is required as it is very strong. Its main uses were to promote an appetite and to aid the digestive processes. The root may be added to food and taken in this manner, or a small portion steeped in a cup of water and taken as a medicinal drink.
Maud Grieve, in her book, A Modern Herbal, first published in 1931, and now a classic in the field, has a great deal to say about this plant. A few of her main points are given below:
The horse radish has been cultivated "

from the earliest times

," but its place of origin is obscure.
Horse radish, along with coriander, horehound, lettuce and nettle, "

is said to be one of the five bitter herbs ... which the Jews were made to eat during the Feast of Passover

".
"

The popular English name, Horseradish, means a coarse radish, to distinguish it from the edible radish....

"
Horse radish has properties similar to black mustard seeds. Also, Grieve notes that "

it acts as an excellent stimulant to the digestive organs, and as a spur to complete digestion

". She also says that it is a strong diuretic and is useful in treating dropsy.
"

When infused in wine, Horseradish root will stimulate the whole nervous system and promote perspiration.

"
Maud Grieve, A Modern Herbal, Penguin Books Edition, 1976, pages 417-419.
Laurie Lacey is not responsible for the misuse of information presented on this homepage (for example, the incorrect prepartion and usage of teas and medicines given herein.) The use of recipes for medicines and teas from this page is strictly the responsibility of each individual.