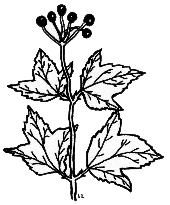 HIGHBUSH CRANBERRY
Viburnum opulus L.
(V. trilobum Marsh.)
Apparently the Mi'kmaq sometimes referred to highbush cranberry as the "flat seed berry" plant.
According to Arthur Van Wart, in The Indians of the Maritime Provinces, their Diseases and Native Cures, Canadian Medical Association Journal, Vol. 24, 1922, p. 576, the Native people of the region used it to treat swollen glands. It was also used to make a tonic beverage.
Laurie Lacey is not responsible for the misuse of information presented on this homepage (for example, the incorrect prepartion and usage of teas and medicines given herein.) The use of recipes for medicines and teas from this page is strictly the responsibility of each individual.