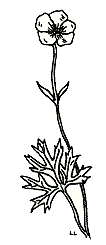 BUTTERCUP
Ranunculus acris L. and other varieties
The Mi'kmaq probably used the buttercup to treat headaches. The scent of the leaves or juice from the leaves, applied to the nostrils, is said to cure headaches.
The buttercup was also used to treat cancer. It would be placed over the diseased part of the body to "draw" the poison from the cancerous growth.
The plant may have been softened by crushing and then applied in poultice form.
There are several kinds of buttercups, some of which are probably stronger than others. The juice may cause blisters and, therefore, should be used with caution.
The buttercup should not be taken internally unless skillfully combined with other plants and then only under the supervision of a qualified herbalist.
Laurie Lacey is not responsible for the misuse of information presented on this homepage (for example, the incorrect prepartion and usage of teas and medicines given herein.) The use of recipes for medicines and teas from this page is strictly the responsibility of each individual.