Return Home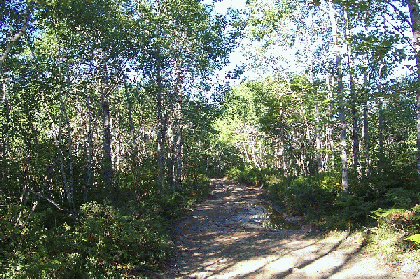 EXPERIENCE A MEDICINE WALK IN THE WILD AND
BEAUTIFUL LEIPSIGAEK GOLD FIELDS AREA OF
LUNENBURG COUNTY, NOVA SCOTIA.
NOURISH THE MIND AND CONSCIOUSNESS WITH THE
SIGHTS AND SOUNDS OF NATURE!
Laurie Lacey is a medicine maker who has worked for years with the
plants and medicines used by the Mi'kmaq people, and with plant spirit
medicine.He is also familiar with the Leipsigaek Gold Fields, which is
a special place of power and energy.
Laurie has hiked this area for years, and will take you to places where
you can do special exercises to benefit from the energy of this area.
Fees: (Usually a morning or afternoon in the gold fields.)
$60.00 (individual)
$75.00 (2 people)
$90.00 (3 people)
$125.00 (4 to 7 people)
$150.00 (8 or more people)
If you would prefer a plant medicine walk about the forest and fields near Laurie's
home, the fees are as follows.
$20.00 (individual)
$35.00 (2 people)
$50.00 (3 people)
$15.00 each (4 or more people)
I will travel to other locations, for medicine walks. In this case, the minimum fee is
$125.00, plus travel and meals.
Subscribe to the Natural Healing Talk Newsletter
and receive the bonus report, Dismiss Fear -- Affirm
Joy With Nature Therapy. You will be taken to the
download page when you confirm your subscription.

RETURN HOME