---
* Services *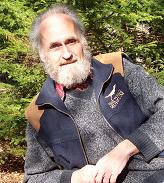 Hi, I'm Laurie Lacey - Welcome to my website, Wild World of Plants! With 38 years' of experience in the field of Mi'kmaq plant and tree medicines, and in Native medicines, generally,
I am pleased to offer my services:

To Help Plan Your Traditional Plant and Tree Medicine Program!


To Help Plan Your Traditional Healing Medicine Garden!

To Plan Your Traditional Medicine Trail!

To Write Your Traditional Medicine Booklet or Manual!

To Speak At Conferences and Special Events!

To Help Plan Your EcoTourism Nature Awareness Program!

To Serve As A Nature Awareness & Nature Therapy Facilitator!

To Guide Your Nature Visioning Quest!

To Perform Plant Medicine and Nature Therapy Workshops and Medicine Walks!

To Work At Your Cultural Centre!

Laurie Lacey's Little Green Nature Books -
A Series of Kindle eBooks!

(Click on the images to visit the eBook pages.)
Other Links
Natural Healing Talk
The companion website to the Natural Healing Talk Email List.
Copyright ©1995-2012, Laurie Lacey, All rights reserved.


laurielacey[at]gmail[dot]com


THE MATERIAL ON THIS SITE MAY BE FREELY USED FOR
RESEARCH PROJECTS. HOWEVER, YOU MUST GIVE CREDIT
TO LAURIE LACEY AND THIS SITE. THE INFORMATION ON
THIS WEBSITE MAY NOT BE USED TO COMPILE BOOKS,
EBOOKS, VIDEOS, AUDIOS, ARTICLES, REPORTS, ETC., OR
IN ANY OTHER WAY, BY ANY MEDIUM, TO SELL OR TO GIVE
AWAY. IT IS TO BE USED STRICTLY FOR YOUR OWN PERSONAL
KNOWLEDGE, INFORMATION, AND STUDENT WORK.